Soaring Eagles
Woodbadge course C-33-05 (the 33rd course this year in BSA's Central region) was August 26-28 and September 17-19, 2005. We had a good time, learned lots and are now busy working our Tickets.
Included here are our patrol totem, song and picture.
Totem
The patrol Totem is a stylized Eagle in an almost-Thunderbird form. The characters from the course number (C-33-05) are all included:
The "C" represents the Eagle's left shoulder.
The "33" represents the Eagle's left and right talons.
The "0" represents the Eagle's eye.
The "5" makes up the Eagle's head, beak and chest.
The six feathers of the outspread wings represent the six members of the patrol.
The position of the members' initials mark the order in which they served as patrol leader (top to bottom, Eagle's right wing first).
For personal use, each patrol member would draw the six feathers and shade in their personal feather.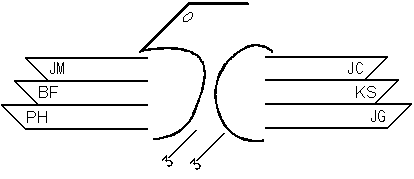 Song
The patrol Song uses the tune from "Junior Birdmen".
Up in the air, Soaring Eagles.
Toward all of our goals, Flying high.
Up in the air, Soaring Eagles.
To finish our tickets we will try.
Picture
The patrol picture was taken in front of Gilwell Field (north end of lake Klien at Beaumont Scout Reservation in Rock Creek, Ohio, Greater Cleveland Council). You can't tell, but it was heavily overcast and intermittantly drizzling.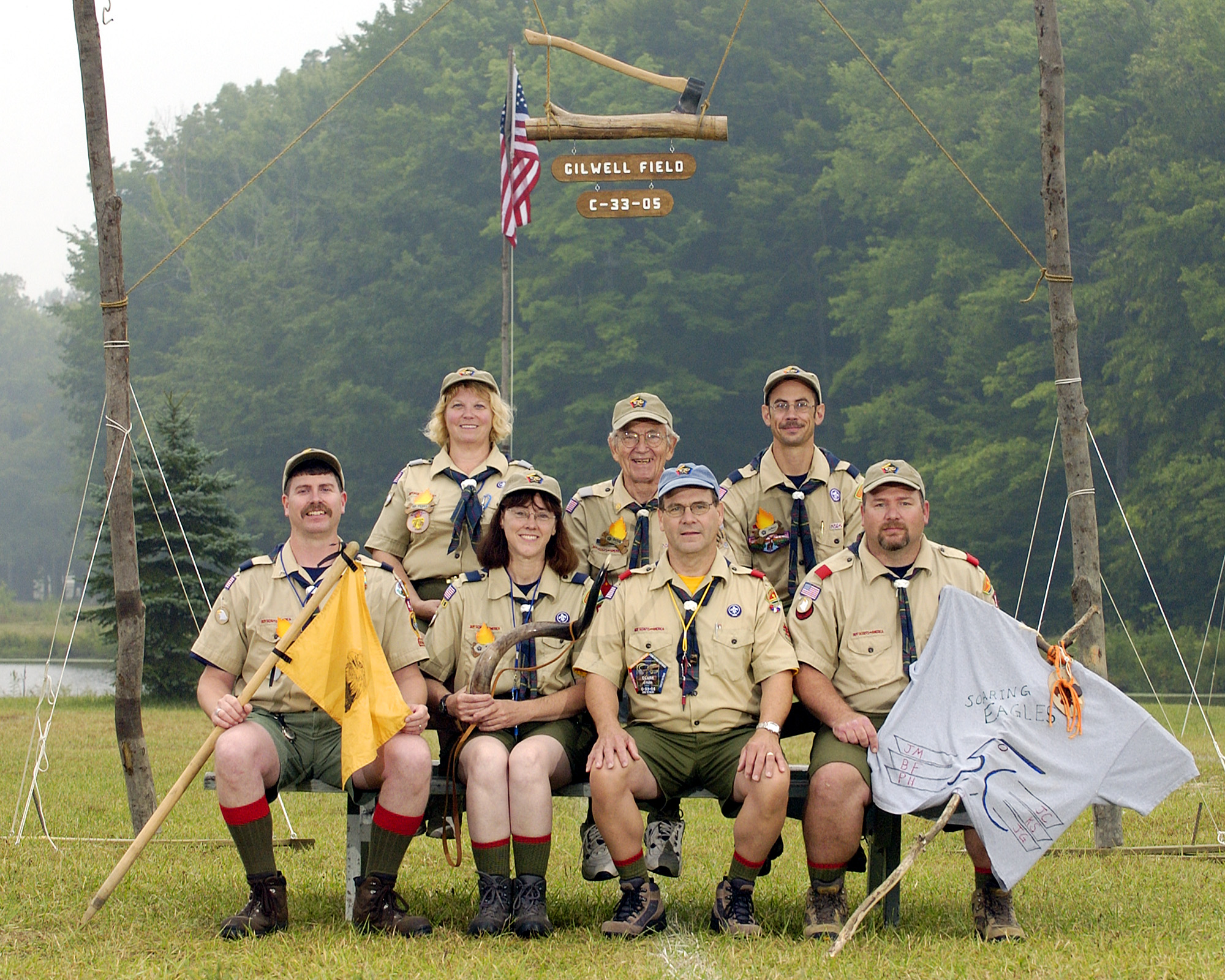 Front row (L→R): John Mellor, Kate Spry, Clare Mansperger (Troop Guide), Joe Colo
Back row (L→R): Peggy Hart, Bud Ford, Jeffrey Gifford
More pictures
Here are some additional pictures of the Eagles.