Even as I was sailing KrazyKat last summer and fall I knew that I wasn't completely finished. I wanted a better seat (mahogany), completed floorboards (also mahogany), a birdsmouth mast (SYP), a tiller with some rise to it (laminated mahogany and maple) and some non-plastic belaying cleats.
The Jonesport mooring cleat on the stem is from a solid block of Texas Mesquite with a couple of coats of spar varnish on it, embedded in a thin layer of silicon caulk. I think it strikes a very nice figure way up there in the eyes of the boat. Black plastic cleats just can't compete with that, in my opinion. Then I remembered that I'd purchased them with the idea of getting the boat on the water quickly (in time to enjoy our region's shorter sailing season) and I relaxed. The Cleveland Boat Show was coming up so it was time to move quickly and get some replacements on her.
After doing some searches for the proper way (is there such a thing?) to make wooden cleats, I discovered that for each person making cleats, there are probably two or three ways to get it done, way too much to digest for me. I found a fairly coherent explanation of the process in a couple of places along with the words "block plane" and "rasp" and knew that I could not only use that guidance but add to it.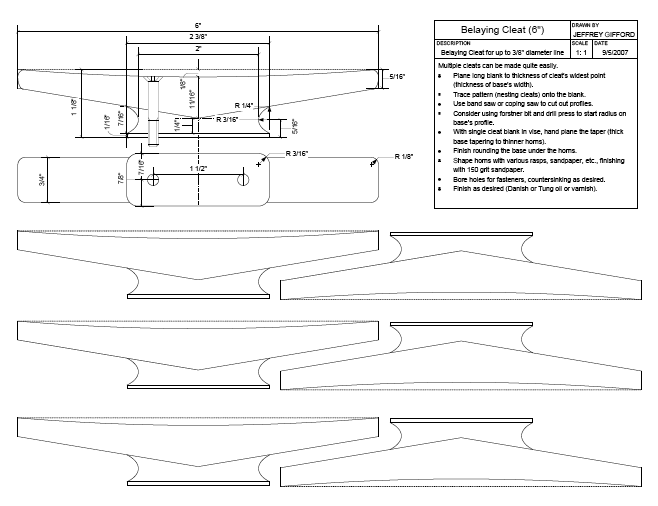 The plans are available in PDF and Visio formats.
From the nearby pictures, you can see a rough approximation of what was accomplished. From a 7/8'' plank of mesquite, I traced out a number of (six) cleats in almost a tessellation pattern. Nesting them this way minimizes the waste. Then I drilled out around each cleat's base using a bradpoint bit, to define the radius around the base. This was nice, but not necessary. It turns out that because they are finish-shaped by hand, there are slight variations to each and having precisely plotted reference points (the fore and aft endings of the bases) is almost frustrating.
Then I took the plank to my band saw, outfitted with a ¼ blade; you can use a coping saw if you'd like. I think if I were making just one cleat, a coping saw sounds nice. Because I was making half a dozen, I wanted this rough part done quickly. I cut slightly proud of the lines and managed to make fairly consistent copies of my ideal cleat.
From here, they went to my bench, to be shaped. You can see the tools employed. There's a radius rasp/file, a flat bastard file, a microplane shaper, my block plane and a sanding block (150 grit). Because the blanks matched my ideal cleat so closely, there wasn't much to take off. The shaper and radius rasp were employed giving the line a clear route around the base and the block plane and sanding block took off the edges, giving them a slight radius.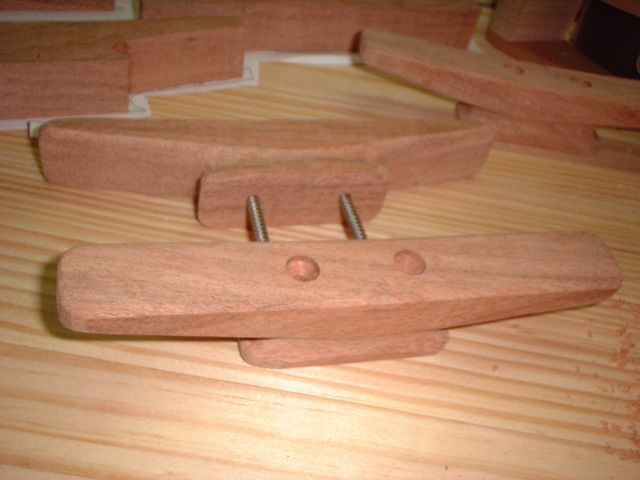 I bored the holes for two 3½'' stainless #12 machine screws. (Note that this is a variance from the plans.) The distance was carefully planned to match the plastic cleats' guidance. With hindsight, I'll be replacing them with through-bolts (same diameter and head, only longer, if possible) and fender washers.
I did countersink the heads slightly. I don't like seeing the hardware protrude above the cleat unless it's necessary for some reason. Each received several liberal coatings of tung oil, were allowed to dry/cure and then received the same treatment of being bedded down in a thin layer of silicon caulk.
My pictures from the boat show went AWOL this week; when the weather clears I'll take some more and you can see how they look on the deck!